We meticulously find the best quality herbs and only use those that were tested for pesticide residues, heavy metals and verified for authenticity. The following herbs are used for the Formula for Pain (both the cream and the spray) and The Formula for Cramps (when noted in parenthesis). Additionally, studies on the pharmacological actions of the herbs are noted below as well.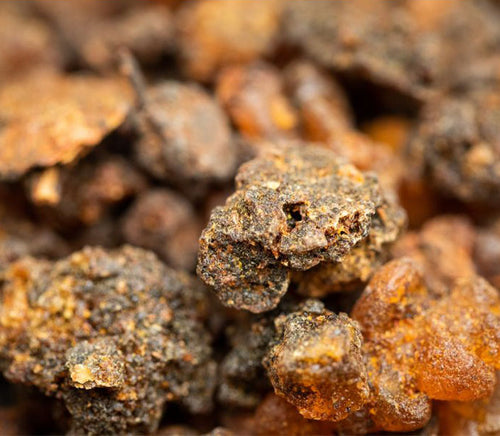 Frankincense and Myrrh resin
AKA: Mo yao and Ru xiang
How it helps 1 2 3
Stops Pain

Reduces Swelling

Reduced Inflammation

Increases Blood Flow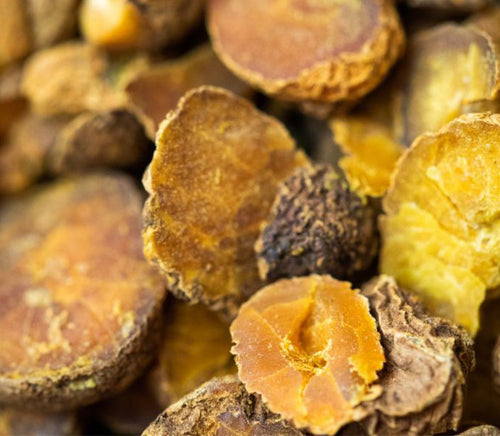 Corydalis (in the Pain and Cramps Formula)
AKA: Yan hu suo
How it helps 4
Reduces Pain

Reduces Spasms

Decreases Inflammation
Homalomena
AKA: Qian nian jian
How it helps 5 6

Decreses Inflammation Especially Muscles and Tendons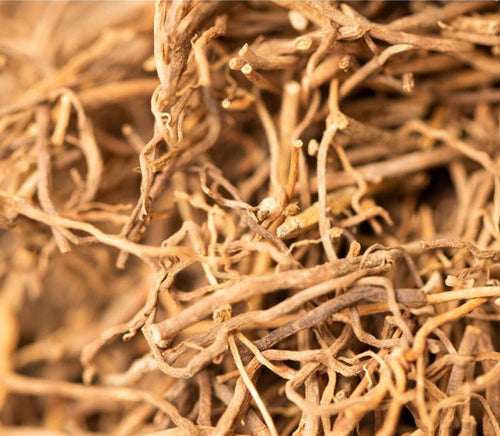 Paniculate Swallowwort
AKA: Xu chang qing
How it helps 7 8
Stops Pain (Analgesic)

Helps with Arthritic Pain

Reduces Inflammation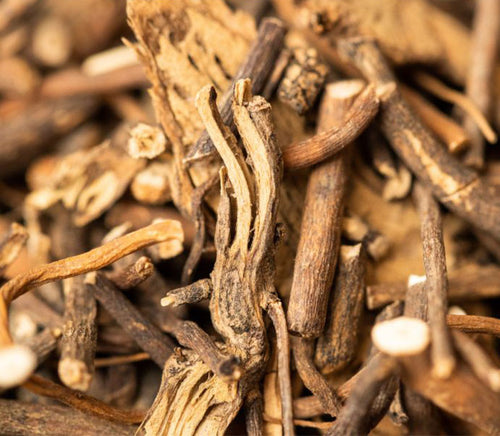 Clematidis
AKA: Wei ling xian
How it helps 9

Decreases Swelling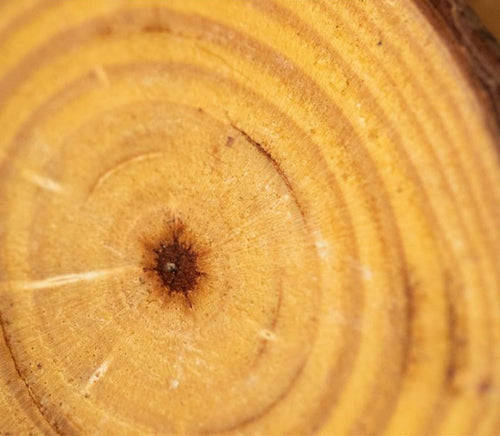 Chinese Knotty Pine
AKA: Song jie
How it helps 10
Pain Relief and Joint Stiffness

Anti-inflammatory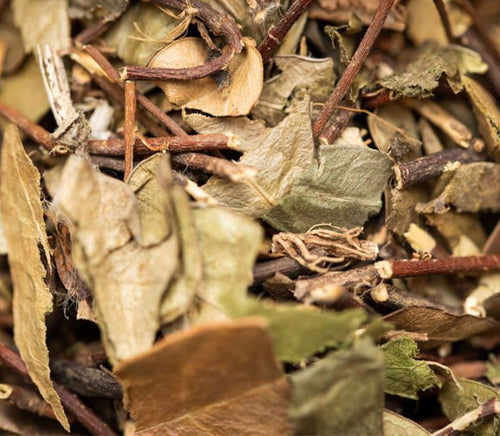 Star Jasmine Stem
AKA: Luo shi teng
How it helps 11 12
Pain Reduction

Decrease in Inflammation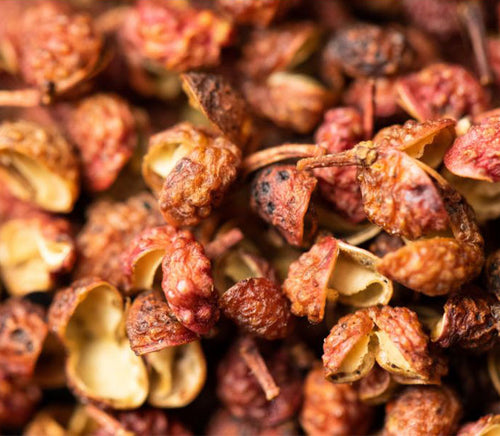 Sichuan Pepper (In both the Pain and Cramps Formula)
AKA: Hua jiao
How it helps 13 14
Stops Pain

Helps pain cream ingredients penetrate the skin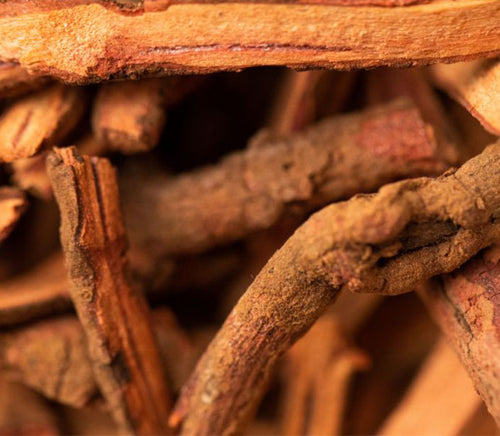 How it helps 15

Positive Effect on Bones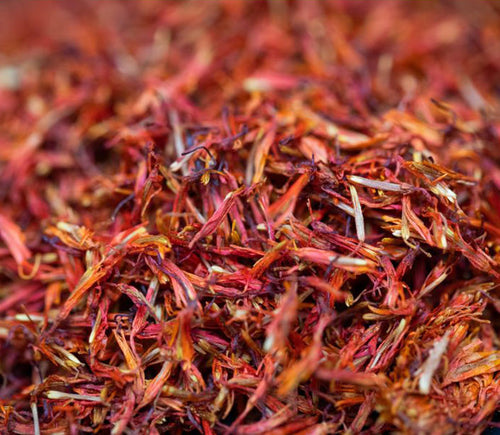 Safflower (In both the Pain and Cramps Formula)
AKA: Hong hua
How it helps 16
Stops Pain (Analgesic)

Helps with Arthritic Pain

Reduces Inflammation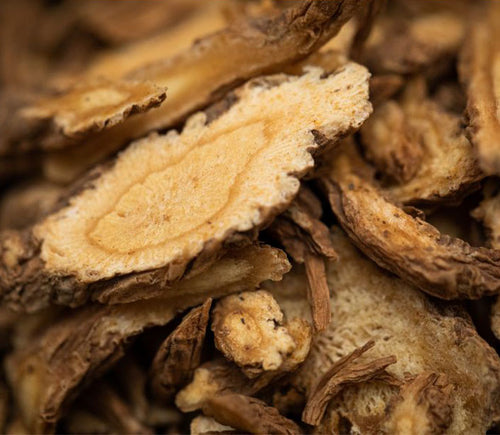 Angelica (In both the Pain and Cramps Formula)
AKA: Dang gui wei
How it helps 17
Stops Pain

Reduces Swelling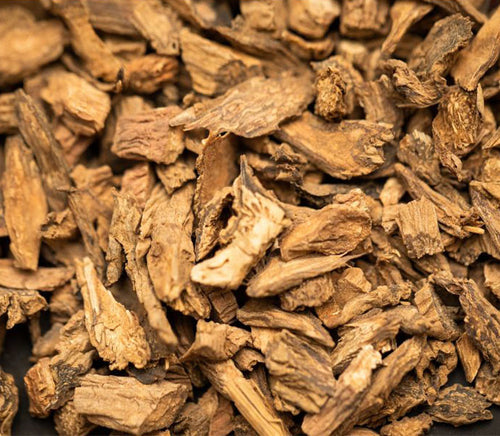 How it helps 18 19
Antioxidant

Anti-inflammatory

Anti-arthritic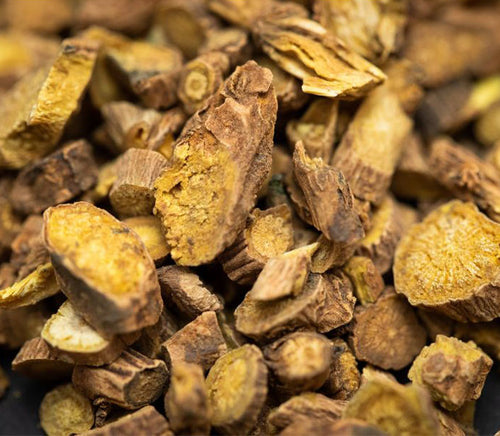 How it helps 20
Analgesic

Anti-inflammatory

Anti-microbial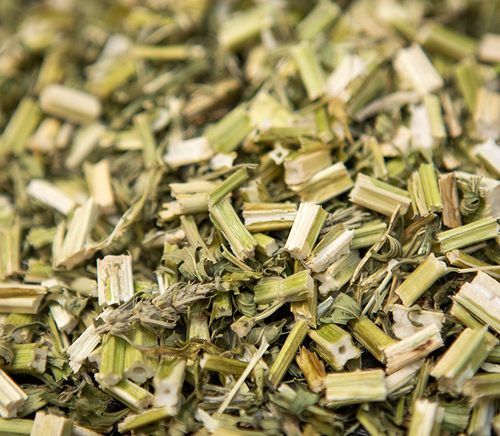 Motherwort (Cramps Formula only)
AKA: Yi mu cao
How it helps 21

Reduces Uterine Spasms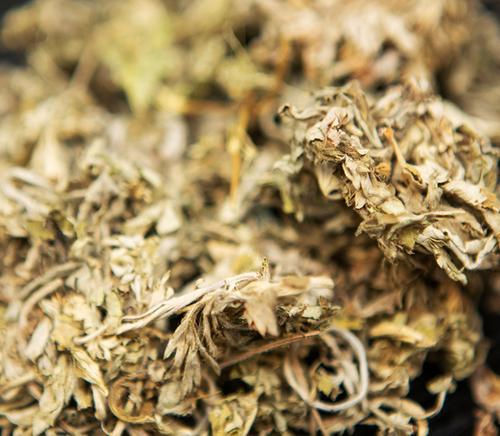 Artemisia (Cramps Formula Only)
AKA: Ai Ye
How it helps 22 23
Stops Pain

Reduces Inflammation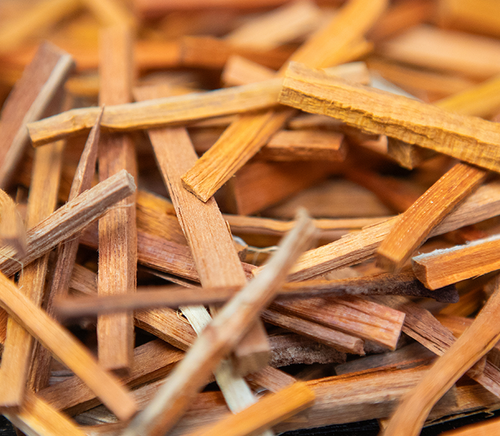 Sappan Wood (Cramps Formula Only)
AKA: Su Mu
How it helps 24

Decreases Inflammation
Stops Pain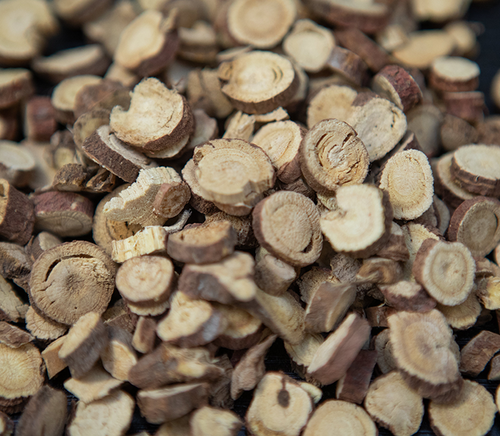 Licorice (Cramps Formula Only)
AKA: Gan Cao
How it helps 25 26
Stops Pain

Decreases Inflammation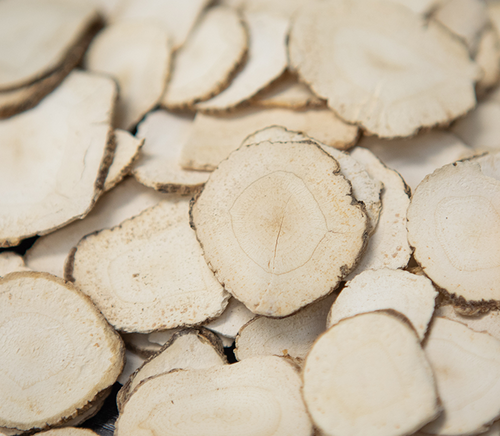 Wild Angelica (Cramps Formula Only)
AKA: Bai Zhi
How it helps 27

Helps Ingredients Penetrate the Skin
[1] Su S, Duan J, Chen T, et al. Frankincense and myrrh suppress inflammation via regulation of the metabolic profiling and the MAPK signaling pathway. Sci Rep. 2015;5:13668. doi:10.1038/srep13668
[2] Local anaesthetic, antibacterial and antifungal properties of sesquiterpenes from myrrh. | DrugBank Online. Accessed November 3, 2021. https://go.drugbank.com/articles/A19618
[3] Cheng YW, Cheah KP, Lin CW, et al. Myrrh mediates haem oxygenase-1 expression to suppress the lipopolysaccharide-induced inflammatory response in RAW264.7 macrophages. J Pharm Pharmacol. 2011;63(9):1211-1218. doi:10.1111/j.2042-7158.2011.01329.x
[4] Corydalis - an overview | ScienceDirect Topics. Accessed November 3, 2021. https://www.sciencedirect.com/topics/biochemistry-genetics-and-molecular-biology/corydalis
[5] Barua CC, Talukdar A, Phukan B, Hazarika S, Barua AG, Baishya G. Phytochemical screening and in vitro antioxidant activity of ethanolic extract of Homalomena aromatica (Araceae) root. Published online 2014:11.
[6] Kehie M, Kehie P, Pfoze NL. Phytochemical and ethnopharmacological overview of endangered Homalomena aromatica Schott: An aromatic medicinal herb of Northeast India. Published online 2017:14.
[7] Xu L, Lao LX, Ge A, Yu S, Li J, Mansky PJ. Chinese Herbal Medicine for Cancer Pain. Integr Cancer Ther. 2007;6(3):208-234. doi:10.1177/1534735407305705
[8] Zhou X, Xia W, Zhang Y, et al. Cynanchum paniculatum (Bunge) Kitag. ex H. Hara: A review of its ethnopharmacology, phytochemistry and pharmacology. J Ethnopharmacol. 2020;260:112994. doi:10.1016/j.jep.2020.112994
[9] Wu W, Xu X, Dai Y, Xia L. Therapeutic effect of the saponin fraction from Clematis chinensis Osbeck roots on osteoarthritis induced by monosodium iodoacetate through protecting articular cartilage. Phytother Res. 2010;24(4):538-546. doi:10.1002/ptr.2977
[10] Marcus A. Foundations for Integrative Musculoskeletal Medicine: An East-West Approach.North Atlantic Books; 2004.
[11] Choi JN, Choi YH, Lee JM, et al. Anti-inflammatory effects ofβ-sitosterol-β-D-glucoside from Trachelospermum jasminoides(Apocynaceae) in lipopolysaccharide-stimulated RAW 264.7 murinemacrophages. Nat Prod Res. 2012;26(24):2340-2343.doi:10.1080/14786419.2012.654608
[12] Sheu MJ, Chou PY, Cheng HC, et al. Analgesic and anti-inflammatory activities of a water extract of Trachelospermum jasminoides (Apocynaceae). J Ethnopharmacol. 2009;126(2):332-338. doi:10.1016/j.jep.2009.08.019
[13] Wu G, Wu H. Analgesia Synergism of Essential Oil from Pericarp of Zanthoxylum schinifolium and Verapamil. Evid Based Complement Alternat Med. 2014;2014:1-8. doi:10.1155/2014/505876
[14] Lan Y, Li H, Chen Y yan, et al. Essential oil from Zanthoxylum bungeanum Maxim. and its main components used as transdermal penetration enhancers: a comparative study. J Zhejiang Univ Sci B. 2014;15(11):940-952. doi:10.1631/jzus.B1400158
[15] Sun JS, Lin CY, Dong GC, et al. The effect of Gu-Sui-Bu (Drynaria fortunei J. Sm) on bone cell activities. Biomaterials. 2002;23(16):3377-3385. doi:10.1016/S0142-9612(02)00038-8
[16] Delshad E, Yousefi M, Sasannezhad P, Rakhshandeh H, Ayati Z. Medical uses of Carthamus tinctorius L. (Safflower): a comprehensive review from Traditional Medicine to Modern Medicine. Electron Physician. 2018;10(4):6672-6681. doi:10.19082/6672
[17] Bensky D, Clavey S, Stoger E, Gamble A. Chinese Herbal Medicine: Materia Medica, Third Edition. 3rd Edition. Eastland Press, Inc; 2004.
[18] Park JY, Park SD, Koh YJ, Kim DI, Lee JH. Aqueous extract of Dipsacus asperoides suppresses lipopolysaccharide-stimulated inflammatory responses by inhibiting the ERK1/2 signaling pathway in RAW 264.7 macrophages. J Ethnopharmacol. 2019;231:253-261. doi:10.1016/j.jep.2018.11.010
[19] Chang NJ, Chen YW, Shieh DE, Fang HY, Shie MY. The effects of injectable calcium silicate-based composites with the Chinese herb on an osteogenic accelerator in vitro. Biomed Mater. 2015;10(5):055004. doi:10.1088/1748-6041/10/5/055004
[20] Yin B, Li W, Qin H, Yun J, Sun X. The Use of Chinese Skullcap (Scutellaria baicalensis) and Its Extracts for Sustainable Animal Production. Anim Open Access J MDPI. 2021;11(4):1039. doi:10.3390/ani11041039
[21] Juan Liu, Cheng Peng, Qin-Mei Zhou, Li Guo, Zhao-Hua Liu, Liang Xiong, Alkaloids and flavonoid glycosides from the aerial parts of Leonurus japonicus and their opposite effects on uterine smooth muscle, Phytochemistry, Volume 145, 2018, Pages 128-136, ISSN 0031-9422
[22] Adams JD Jr. The Use of California Sagebrush (Artemisia californica) Liniment to Control Pain. Pharmaceuticals. 2012; 5(10):1045-1053.
[23] Liu, J., Xiong, P., Huang, L., Zhang, W., Song, L., Hu, H., Jia, B., & Liu, X. (2023). Artemisia anomala S. Moore: A review of botany, traditional uses, phytochemistry, pharmacology and quality control. Journal of ethnopharmacology, 315, 116663.
[24] Saptarini, Nyi & Deswati, Dytha. (2021). Analgesic and Antipyretic Activities of Ethanolic Extract of Sappan wood (Caesalpinia sappan L.) Leaves. Research Journal of Pharmacy and Technology.
[25] Bell, R. F., Moreira, V. M., Kalso, E. A., & Yli-Kauhaluoma, J. (2021). Liquorice for pain?. Therapeutic advances in psychopharmacology, 11, 20451253211024873.
[26] Nikkhah, Mehdi & Yousefi, Seyde-Sedighe & Pourmousa, Rostam & Fahimi, Ali & Seyfi, Fatemeh & Sadeghpour, Omid. (2021). Comparison of the effect of acetaminophen and licorice-based traditional medicine on reducing pain of patients undergoing denotonsillectomy, a pilot randomized clinical trial study. International journal of health sciences.
[27] Lin, H., Xie, Q., Huang, X., Ban, J., Wang, B., Wei, X., Chen, Y., & Lu, Z. (2018). Increased skin permeation efficiency of imperatorin via charged ultradeformable lipid vesicles for transdermal delivery. International Journal of Nanomedicine, 13, 831–842.